BREAKING | PM Steps Up Quarantine Measures For Returning Australians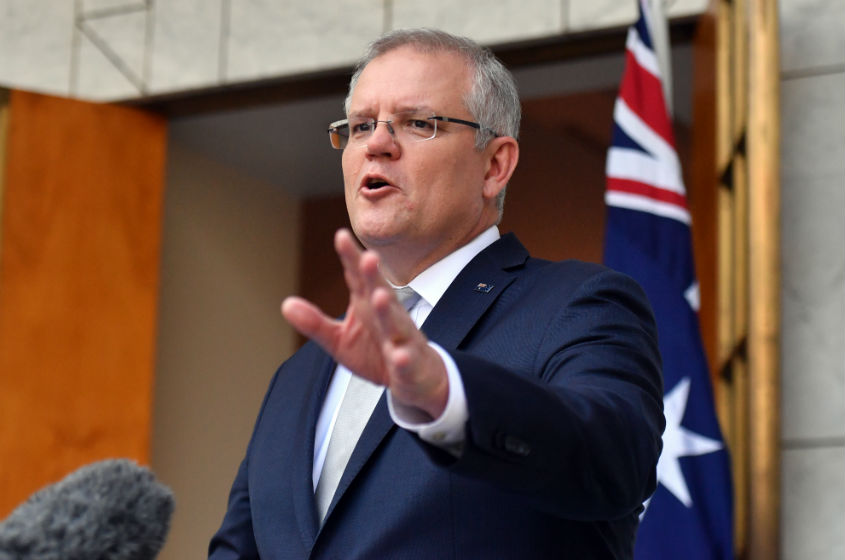 Prime Minister Scott Morrison talks to the media at a press conference at Parliament House in Canberra, Wednesday, March 25, 2020. (AAP Image/Mick Tsikas)
Thank you Australia, thank you, these are the words the Prime Minister opened Friday's press conference with.
Scott Morrison was commenting following a meeting of the National Cabinet.
He thanked Australians for responding to the crisis in the way they have.
Mr Morrison revealed that the number of new cases of COVID-19 are falling across the country
He said there has been a significant change in the way people are taking on these messages and supporting others.
Thank you, keep doing it, you're saving lives he told reporters.
He added "This has been a significant shift".
He said people may not be at the Pub on Friday afternoon but they will be at home with their families or on FaceTime.
"No Australian should have to go through this alone" he said.
He joined G20 leaders from across the world and said Australia has the highest testing rate in the world. He added restrictions are making a difference.
"I was filled with great concern, for so many countries in what they're facing.
He urged us to continue to do the right thing across the weekend, with the Local Government Elections being held in Queensland.
The PM admitted some people have been facing big delays and long queues to get assistance during this difficult time.
He said "We are battling this thing on two fronts", he said we are putting measures in place to control the spread and we are battling COVID-19 on an economic front saying there have been "Devastating impacts" with the virus ruining lives and livelihoods.
He said the Morrison Government has decided to take further action in an area that has been a major area of concern. He revealed two thirds of cases of COVID-19 are from Australians returning home from other parts of the world.
I am livid 😡

This was international arrivals at @SydneyAirport this morn.

When @AusBorderForce was asked wtf re #SocialDistancing the reply was "not our problem, that's biosecurity."#coronavirusaustralia #covid19australia pic.twitter.com/5tSxzEUZsg

— Sally Prosser (@sally_prosser) March 25, 2020
He said we are taking further measures in relation to isolation measures already in place. Currently returning Australians have to fill out a declaration form and agree to self-isolate for a fortnight, adding there are stiff penalties for those who don't comply.
In addition to these measures, the PM said by no later than midnight Saturday night, state and territory authorities will be quarantining returning residents in hotels and other accommodation facilities for that two week period.
Those residents will quarantine in the state or territory they fly into, not in their home state or territory.
These measures will be governed by state and territories and the Federal Government will oversee that.
He said more than 1,700 Australians returned to Australia on Thursday alone, which is why they have chosen to introduce these new measures.
Compliance checks will be carried out to ensure that returning residents are complying with those quarantine requirements, authorities will be supported by members of the Australian Defence Force.
Chief Medical Officer Professor Brendan Murphy said we have just over 3,000 cases in Australia and "We are worried". He said our numbers have not been helped by a recent cruise ship which returned to Sydney.
Returned travellers have also been passing on the virus to family members.
Doctor Murphy said 'community transition' is their biggest concern and they have been seeing that mostly in Sydney and in pockets in other states.
The Prime Minister will shortly make an announcement regarding schools and when students may or may not return in Term Two.
He also said he, together with states and territory leaders, are working on resolving issues in the childcare sector.
Some Australians report being forced to pay childcare fees while being urged not to take their children to centres.
The PM said he hopes to make an announcement regarding that in the near future.
Mr Morrison will also make a fresh announcement regarding the economy, hinting businesses will have to go into 'hibernation'.
What we do know is that states and territories will be assisted to deal with commercial and residential tenancies.
We will have more on that announcement when it comes to hand.
By Michelle Brewer