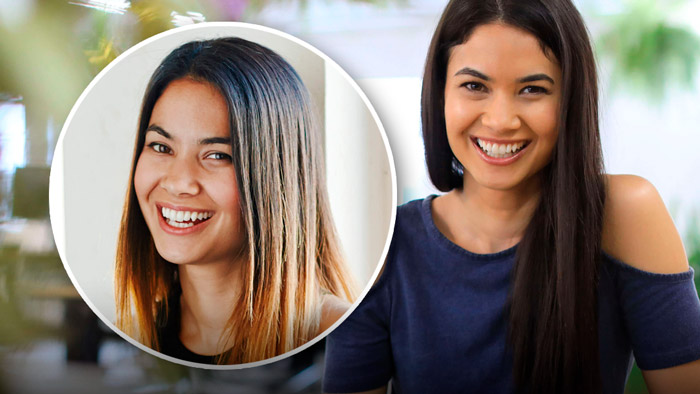 With an estimated fortune of $8.2 billion, CEO and co-founder of Canva, Melanie Perkins has signed a pledge to donate most of her fortunes to charitable causes in her lifetime.
The Giving Pledge founded in 2010 by billionaire Gates couple Bill Gates and Melinda French Gates and investor friend Warren Buffett was created as a promise by the world's wealthiest to dedicate the majority of their wealth to charity. Notable members include Bill Gates, Mark Zuckerberg, Richard Branson and Elon Musk. The Giving Pledge is a moral commitment, rather than a legally binding one.
This year, fourteen more of the world's wealthiest signed up to the pledge with Perkins and her husband and co-founder of Canva, Cliff Obrecht among them.
Article continues after this ad
Advertisement
The couple launched their design start-up Canva in 2013 with Cameron Adams in Sydney. The platform now attracts 60 million monthly users according to Forbes. 500,000 teams use the design platform from companies like Intel, Zoom and Lonely Planet paying to use the service. The software allows users to create designs with ease from menus to resumes and social graphics and now even video.
The opportunity that we have is only superseded by the responsibility we feel. We hope we can live up to it over the years to come. So lucky to turn a wild idea into reality with the best team, community and investors. Exciting progress on our 2-step plan:https://t.co/9esrmZKm79

— Melanie Perkins (@MelanieCanva) September 14, 2021
The company has been valuated by private investors at $40 billion (USD) in September of 2021 and Perkins owns an estimated 18% stake. The 34-year-old was one of Forbes' "Top Under 30 of the Decade" in 2020 and this year made their Hall of Fame list. She first appeared on the Under 30 list in 2016, three years after launching Canva. At that point, there were eight million people using the web-based design app and was worth $165 million.
"In this day and age, companies have a much greater responsibility than the old mantra to do no evil." — Melanie Perkins, cofounder and CEO of Canva, on the leadership businesses must display for societies to progress #Cloud100 Presented by @BessemerVP @SalesforceVC pic.twitter.com/Wf42odYT3U

— Forbes (@Forbes) September 16, 2020
Perkins and Obrecht have said they've had a two-step plan for Canva, which was to build one of the world's most valuable companies and do the most good they can do. They write in their pledge:
Article continues after this ad
Advertisement
"We have this wildly optimistic belief that there is enough money, goodwill, and good intentions in the world to solve most of the world's problems. We feel like it's not just a massive opportunity, but an important responsibility and we want to spend our lifetime working towards that."
How young Australian kite surfer Melanie Perkins built the $3.2 billion (profitable) startup phenom Canva https://t.co/115Tkg4hIK by @alexrkonrad #ForbesUnder30 pic.twitter.com/rzAReya5li

— Forbes (@Forbes) December 11, 2019
Born in Perth, Western Australia, Perkins aspired to be a figure skater growing up waking up at 4:30 am to train. By fourteen, she was selling handmade scarves in markets and to women's boutiques around her hometown. She enrolled at the University of Western Australia with majors in communications, psychology and commerce where she met her now-husband Obrecht. The pair originally made money selling spray-on tattoos, but as a private tutor for students learning Graphic Design, Perkins dropped out of university at nineteen years old and founded her first company Fusion Books with Obrecht.
A few years ago I wrote a post about some of the lessons we've learned on Canva's journey, I called it Part 1, but never quite got to Part 2! If there's anything you'd like to know more about, let me know and I'll try to include the questions in Part 2!👇https://t.co/RNnrzcVwTT

— Melanie Perkins (@MelanieCanva) October 18, 2021
Fusion Books became Australia's largest yearbook publisher within five years and expanded to France and New Zealand. The platform allowed students to design their own school yearbooks using the same concept behind Canva.
Article continues after this ad
Advertisement
Perkins was recently announced as the second richest woman on Australian Financial Review's Rich Women List behind Gina Rinehart who has an estimated fortune of $30.8 billion.
The wealth of the nation's richest women has jumped $7.4 billion as technology entrepreneurs, led by Canva's Melanie Perkins, climb the Rich Women rankings. https://t.co/wf1I1a8LyZ

— Financial Review (@FinancialReview) March 7, 2022
You can read more about Canva's history and their two-step plan here.
Image Credit: (Canva Media Kit)