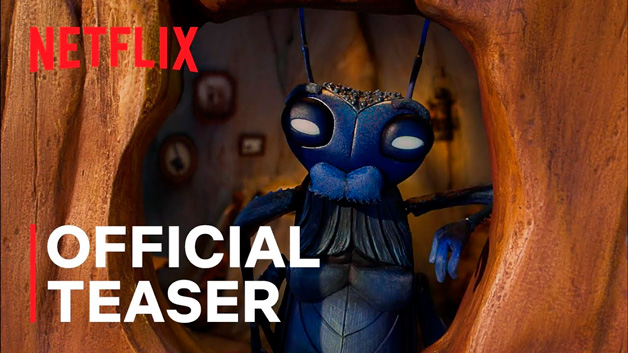 The first look at Guillermo del Toro's 'Pinocchio' has finally been released with its first teaser trailer after years of development. The film was first announced in 2008 and had many production issues and delays until Netflix announced it had acquired the film's release a decade later in 2018.
Now in 2022, we finally get the first look at the stop-motion film with Netflix releasing a brief 53-second official teaser.
In the teaser, we meet Sebastian J. Cricket. He says in the clip, "I want to tell you a story. It's a story you may think you know, but you don't. Not really. You see, I, Sebastian J. Cricket, was there. As a matter of fact, I lived, actually lived, in the heart of the wooden boy."
Article continues after this ad
Advertisement
They also announce the film will only be released on Netflix in December of 2022.
A sneak peek for Pinocchio- coming up – this Fall. https://t.co/bz2jytF6g1

— Guillermo del Toro (@RealGDT) January 24, 2022
The film is directed by Academy Award-winning filmmaker Guillermo del Toro and Mark Gustafson, and features an all-star voice cast with Ewan McGregor as Cricket, David Bradley as Geppetto, and Gregory Mann as Pinocchio.
Other cast members include Finn Wolfhard, Academy Award winner Cate Blanchett, John Turturro, Ron Perlman, Tim Blake Nelson, Burn Gorman, with Academy Award winner Christoph Waltz and Academy Award winner Tilda Swinton.
Image Credit: (Netflix / Youtube)
Article continues after this ad
Advertisement