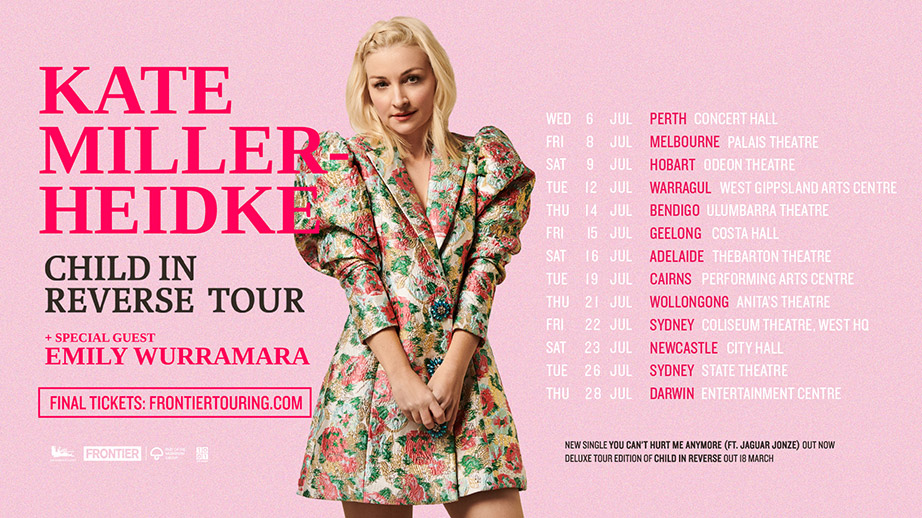 Frontier Touring are thrilled to announce that AIR award-winning, six-time Queensland Music Award winner and ARIA-nominated artist Emily Wurramara has been added as a special guest for Kate Miller-Heidke's upcoming Child In Reverse Tour this July.
"I'm so excited to be joining KMH on her tour! I first saw her at Woodford when I was in high school and she is such a beautiful and talented soul and I'm looking forward to creating some deadly memories and big laughs" – Emily Wurramara
Wurramara ('Black Smoke' 'Lady Blue' and 'Cruisin'') will open at all 13 shows in Adelaide, Bendigo, Cairns, Darwin, Geelong, Hobart, Melbourne, Newcastle, Perth, Sydney, Warragul, Western Sydney and Wollongong.
Tickets are on sale now via frontiertouring.com/katemillerheidke.
Article continues after this ad
Advertisement
'Long-awaited' doesn't quite cut it – my tour is finally happening after two years of cancellations and postponements. It will be unforgettable (and possibly quite emotional) for me and for all the brilliant musicians coming with me.
We are especially excited to be joined by the fabulous Emily Wurramara, of whom I've been a big fan for a long time.
New songs, old songs, requests – we're open to everything this time around. This tour is about celebrating the fact that we can be together (something I'll never take for granted again!)
Oh, and it's also about having fun.
See you there x' – Kate Miller-Heidke
Today, Kate releases an emotional new version of 'You Can't Hurt Me Anymore (Feat. Jaguar Jones)', lifted from the Child In Reverse Deluxe Tour Edition to be released Friday 18 March (via EMI Music Australia).
"I think it's one of the most powerful songs I've written, and it's a privilege to sing it with Jaguar Jonze, who transformed the track with her potent raw energy."
She later revealed the heartbreaking message that inspired the song on Instagram.
WATCH THE NEW SINGLE: YOU CAN'T HURT ME ANYMORE (FEAT JAGUAR JONES)
Article continues after this ad
Advertisement
EMILY WURRAMARA is a Warnindhilyagwa woman and First Nations singer-songwriter from Groote Eylandt, the largest island in the Gulf of Carpentaria and the fourth largest island in Australia. She won Best Independent Blues and Roots Album for her debut full-length record Milyakburra at the 2019 AIR Awards where she was also nominated for Breakthrough Independent Artist.
The accolades don't stop there, with Milyakburra also earning her a nomination for Best Blues & Roots Album at the 2018 ARIA Awards and singles 'Lady Blue' and 'Black Smoke' gaining regular airplay on triple j, ABC Local and 10 weeks in the AMRAP charts. Emily has taken to the stage both locally and globally at Woodford Folk Festival, Bluesfest, TEDx Sydney, GARMA, Port Fairy Folk Festival, BIGSOUND and International Folk Alliance showcase in Kansas, Canada and New Orleans, as well as shows in Chicago, New York, Paris and across so called Australia.
Wurramara has also toured and played with iconic artists including Archie Roach, Mavis Staples, John Farnham, Busby Marou, Coloured Stones, Missy Higgins, Shellie Morris, Jessica Mauboy, The Cat Empire and John Butler, just to name a few!
'Emily Wurramara is a rising star on the Australian music scene, with a style so unique and personal that it could only ever be hers.' – Adelaide Review
While Kate Miller-Heidke is a classically trained opera singer, her musical output has traversed into alternative-pop folk throughout her 20+ years as an acclaimed singer-songwriter. She has released five studio albums since 2007 and released smash hits such as 'The Last Day On Earth' and 'Zero Gravity'. Her latest record Child In Reverse (2020) peaked at #9 in the ARIA Album Charts and featured the singles 'This Is Not Forever', 'Deluded', 'A Quiet Voice' and 'Little Roots, Little Shoots', and was described as 'refreshing, poignant and playful art-pop' by Double J.
Article continues after this ad
Advertisement
Before hitting the road on her Child In Reverse Tour, fans can catch Kate Miller-Heidke when she guest programs Rage on ABC TV this Saturday 13 March from 10:30 am and 12:30 am Sunday 14 March. This will be the songstress' first appearance on the show after an almost 10-year hiatus and viewers can look forward to a stack of clips from her most beloved artists who inspired her throughout her career and gave influence to the soft and dreamy melodies of her latest album, Child In Reverse. The lineup of music videos is said to include artists like Bjork, Courtney Barnett, Emily Wurramura, B52s plus many more.
'Spine-tingling' and 'Extraordinary' – The Australian
'The stripped back and candid nature of the show enhanced this magical feeling and left you walking away in pure awe of her artistry.' – Thomas Bleach
Kate Miller-Heidke and her 6-piece band will wow audiences across both metro and regional areas of Australia when her Child In Reverse Tour arrives this July. Don't miss out on a magical night and spectacle performances from two of Australia's most cherished vocalists.
Article continues after this ad
Advertisement