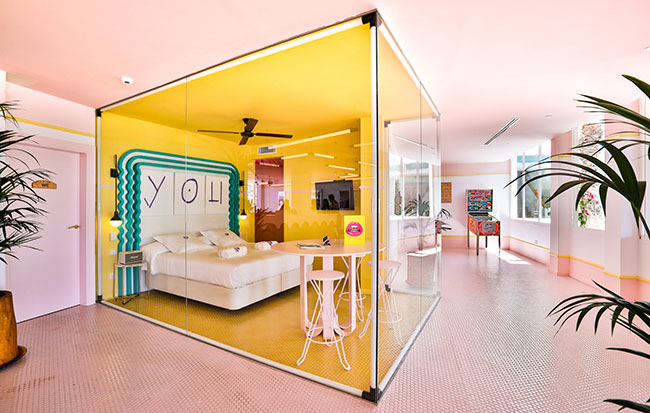 This hotel room is not one for introverts, or anyone who hates being watched while they're sleeping! (Actually that's most of us right? Mega creepy.)
A hotel in Spain is offering guests a free night's stay with one very clear catch!
Not only does the Zero Suite have see-through walls, it's also smack bang in the middle of the hotel's busy lobby with people passing at all hours.
Article continues after this ad
Advertisement
The Zero Suite is at the Paradise Art Hotel in Spain, where hotel management says a stay in there is "not for the faint of heart".
TikToK user Olympia Anley has already given a review of her overnight stay in the room, which has gone viral:
"This would be my worst nightmare" wrote one commenter while another said, "I wouldn't be able to get to sleep with the thought of them watching me".
"Imagine the weird people who are just gonna stand there watching you sleep. No thank you. I'll sleep in the bathroom lol" noted one commenter, to which Olympia responded: "If you're asleep you don't even know!"
Article continues after this ad
Advertisement
"See this kinda attitude would kill you in a horror movie💀" was the hilarious response to that.
But in a description of the room on the hotel's website, it points out the room is not just for sleeping: A glass walled room in the middle of Paradise Art Hotel's lobby where you can sleep one night for free. Not for the faint of heart. Also available for artsy performances, radio broadcasts, DJ sets…the possibilities are endless as long as you like being the centre of attention.
A post on the hotel's Instagram had a comment from someone who'd taken up the sleep offer, saying: "Had half a nights sleep in there!! People banging on teh windows not fun bit teh experience was great!!".
Of course, the biggest question is: Where's the toilet? The website doesn't explain that one.
Thankfully the answer is what you'd hope it would be:
Article continues after this ad
Advertisement
Yes, the bathroom is private. That would be too weird otherwise. No one needs to see that!
Main image: Paradiso Art Hotel website