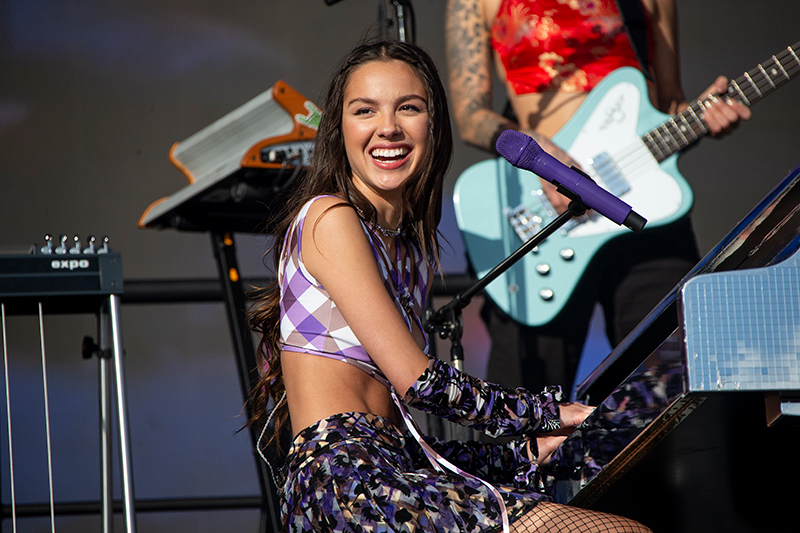 Olivia Rodrigo performs at the Glastonbury Festival in Worthy Farm, Somerset, England, Saturday, June 25, 2022. (Photo by Joel C Ryan/Invision/AP)
Glastonbury returned this weekend with some huge acts taking to the stage.
The other big news across the weekend was the landmark decision by the Supreme Court to overturn the historic Roe Vs Wade ruling and as many in the US took to the streets to protest there were some famous faces at the music event in the UK that used the platform to show their disgust.
Article continues after this ad
Advertisement
One of the least subtle protests came from megastar Olivia Rodrigo, who took to the stage joined by a special guest to say pretty much what we are all thinking.
Olivia announced that she would be joined by the iconic and at times controversial brit-pop sensation Lily Allen and the pair joined forces to perform one of Lilys biggest hits, the song simply titled "F You".
WATCH HERE: Warning This Video Contains a Few Naughty Words
The super catchy track was a massive hit here in Australia back in 2009, especially with the radio edit heard across the country featuring the swear word replaced by some hilarious sound effects.
The song features lyrics like "your point of view is medieval" and Olivia started with "I wanted to dedicate this next song to the five members of the Supreme Court who have shown us that at the end of the day they don't really care about freedom" she then went on to name the justices who voted to overturn the ruling.
Article continues after this ad
Advertisement
Lily shared on her Instagram just how special the set was to her as her kids are massive fans of Olivias.
Let's hope Lily is right and this performance was enough to pull her out of retirement.
Article continues after this ad
Advertisement