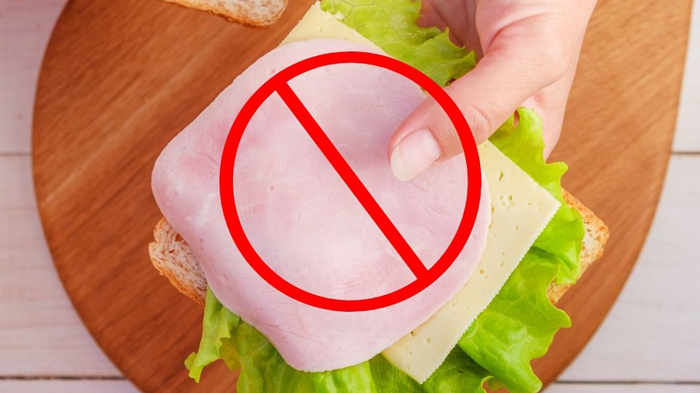 A leaflet sent home to parents telling them to 'Ditch The Ham Sandwich' has sparked debate with parents unhappy with the recommendation from the Cancer Council.
The leaflets produced by the Cancer Council were distributed with public school newsletters in NSW and comes after another recent leaflet from the Cancer Council suggesting children have 'meat-free' Mondays. Their Meat Free Monday suggestion said:
"Eating more plant-based food is a way you can reduce your cancer risk and the risk of other chronic diseases. Another benefit of eating less meat is that it's good for the environment. Did you know that it can take 30 bathtubs of water to produce just one beefburger?"
Article continues after this ad
Advertisement
David Bligh, of Bringelly Pork and Bacon, responded to the idea of ditching the ham sandwich and said the leaflets go 'too far.' He told News Corp, 'I think sometimes these politically correct messages can go a little bit too far and not be as practical as they should be.'
In an interview with 'The Today Show', he said:
"People bring up all sorts of issues about food and chemicals and things like that, but a lot of the preservatives and things that are put in ham and bacon are actually naturally occurring chemicals and preservatives because these sorts of things are found in spinach and vegetables and all of those sorts of things.
"It is just blown out of proportion. Ham has been eaten for the last 5000 years without any side effects."
School kids have been told to "ditch the ham sandwich" from their lunchboxes in a warning sent out by the Cancer Council. Pork producers have slammed the "politically correct" message as well as a previous memo encouraging kids to have a meat-free Monday. Is this too far? #9Today pic.twitter.com/4Ze0q4Nx9j

— The Today Show (@TheTodayShow) May 2, 2022
Article continues after this ad
Advertisement
Today host Karl Stefanovic also weighed in on the issue during the show saying, "I think this is just ridiculous. I don't know where they get off doing this," as he and co-host Ally Langdon and newsreader Alex Cullen ate ham sandwiches at their desk.
A spokesperson for Cancer Council explained the leaflets were only to get children to eat better food. She explained:
'Because there is strong evidence that eating processed meats and too much red meat is associated with increased risk of bowel cancer, our cancer prevention messages advise everyone to limit their processed meat consumption and cut down on red meat."
According to reports, The NSW Department of Education confirmed there was no banning of ham sandwiches from schools. In their NSW Healthy School Canteen Strategy, they say, "Ham may be used in Everyday foods and meals such as salads and sandwiches." Processed meat however fell into their 'occasional fillings' recommendation, which included bacon, salami, chicken roll, sausages and hot dogs. They also said lean ham is preferable, writing:
"Lean meats include skinless chicken, steak, roast beef, turkey breast, low fat mince, lamb and pork. Trim visible fat from meat where possible. Ham may also be used in Everyday meals and snacks, preferably lean ham."
Article continues after this ad
Advertisement
In the article created by Cancer Council NSW suggesting to 'swap ham out of the lunch box,' it explains ham is linked with bowel and stomach cancer. They write:
"We know that ham is a lunch box staple for many families, however, Cancer Council recommends that we limit or avoid processed meats because of their link with increasing the risk of bowel and stomach cancer. Bowel cancer is one of the most common cancers in Australia. Processed meats include ham, devon, bacon, salami, frankfurts, prosciutto and some sausages such as cabanossi and kransky."
Instead of ham and other processed meats in sandwiches, wraps and salads, they suggest using the following ingredients instead:
BBQ chicken with the skin removed
Canned tuna or salmon
Boiled eggs
Hummus
Cheese
Leftover home-cooked meat such as slices of roast
Home-cooked rissoles
They suggest making processed meat an occasional food only and not a regular choice.
Article continues after this ad
Advertisement
Image Credit: (Alexey Androsov / Shutterstock.com)