Darrell Lea Release White Raspberry Bullet Blocks!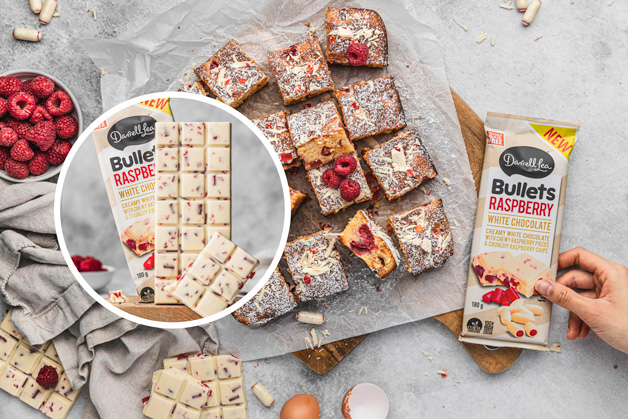 For all you white raspberry bullet fans, Darrell Lea have some great news for you with the announcement of a White Raspberry Bullet Block!
The iconic Australian confectionary company have launched their first-ever white chocolate block and it's packed with their famous raspberry liquorice and also crunchy raspberry candies.
They said about the exciting new block, "Setting itself apart in classic Darrell Lea style, the new block is filled with the chewy raspberry liquorice pieces we know and love, with added crunchy raspberry candies, then blanketed in smooth and creamy Darrell Lea white chocolate. Jam-packed with yummy, crunchy, chewy bits, Aussies can enjoy something special in every bite."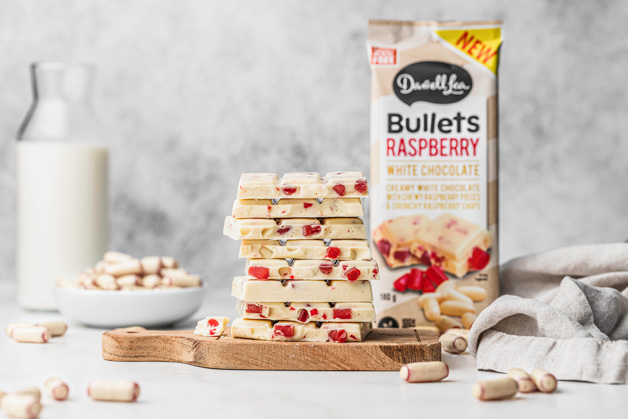 Want to take it to the next level? Darrell Lea have even released a White Raspberry Bullet Block Blondie recipe you can follow below:
---
Darrell Lea White Raspberry Bullet Block Blondie Recipe
Ingredients:
● 125g butter, chopped
● 1/2 cup caster sugar
● 1/4 cup milk
● 250g of Darrell Lea White Raspberry Bullet Block, chopped
● 2 eggs
● 3/4 cup plain flour
● 3/4 cup self-raising flour
● 1 cup frozen raspberries
● icing sugar mixture, to serve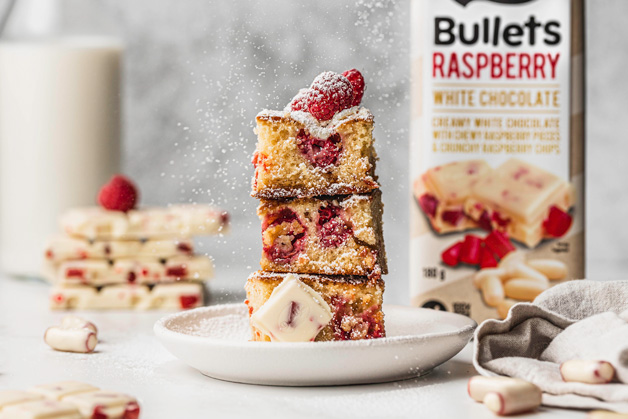 Method:
1. Preheat oven to 180°C/160°C fan-forced. Grease a 23cm (base) square cake pan. Line base and
sides with baking paper, allowing a 2cm overhang on all sides.
2. Place butter, sugar, milk and half of Darrell Lea White Raspberry Bullet Block into a saucepan over
low heat. Cook, stirring, until smooth. Transfer to a bowl. Set aside for 10 minutes.
3. Whisk eggs and flours into chocolate mixture until just combined. Fold in raspberries and the
remainder of the Darrell Lea White Raspberry Bullet Block. Pour into the prepared pan. Bake for 45
to 50 minutes or until a skewer inserted into the centre has moist crumbs clinging (cover with foil if
over-browning).
4. Cut into squares. Dust with icing sugar. Serve with shavings of Darrell Lea White Raspberry Bullet Block.
---
As well as the White Raspberry Bullet Block, they have also released a new Peanut Brittle Milk Chocolate Block, which has roasted peanuts and crunch caramel.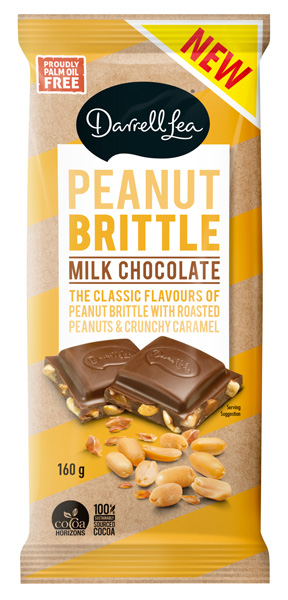 They're available nationally at Woolworths, Coles and selected Independent Supermarkets and the 180g White Raspberry Bullet block retails for $5. The 160g Peanut Brittle chocolate block is also available for $5 with 300g value packs available at Woolworths for $6 (RRP). Their products are 100% palm oil-free and 100% sustainably sourced cocoa!
---
Image Credits: (Supplied by Darrell Lea)