Rolling Stones tribute to Charlie Watts at first concert without him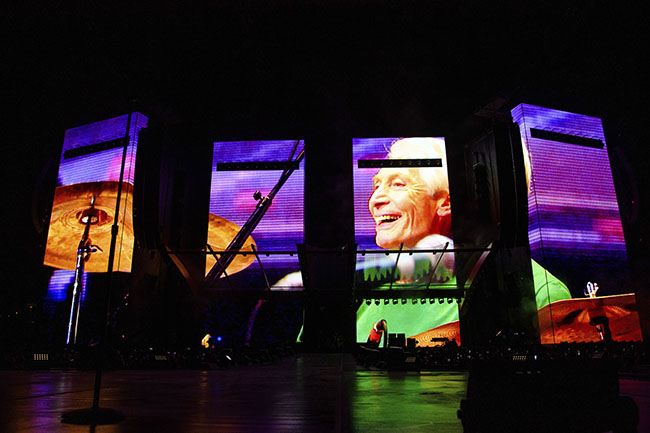 A video tribute to Charlie Watts plays before the Rolling Stones perform during the "No Filter" tour at The Dome at America's Center on Sunday, Sept. 26, 2021, in St. Louis. (Photo by Amy Harris/Invision/AP)
The Rolling Stones have kicked off their first tour without bandmate Charlie Watts - who died in August aged 80 - with a touching tribute to him at the start of their concert.
Four screens above the stage beamed a video montage of drummer Watts to the 50,000 fans in St Louis, Missouri before the band started their No Filter Tour.
September 28, 2021
And here's the tribute followed by the band performing their opening song Street Fighting Man:
Steve Jordan has stepped in as touring drummer for the band and made his official debut at a smaller, private show ahead of the main concert, where Mick Jagger spoke about how poignant it was for them to be performing without Watts.
"This is our first tour in 59 years that we've done without our lovely Charlie Watts," Jagger said to the crowd. "We all miss Charlie so much. We miss him as a band. We miss him as friends, on and off the stage. We've got so many memories of Charlie. I'm sure some of you that have seen us before have got memories of Charlie as well. I hope you'll remember him like we do. We'd like to dedicate this show to Charlie."
September 21, 2021
The night saw the first time they played Troubles A-Comin' live, which will feature on the 40th anniversary Deluxe 2LP edition of Tattoo You, which is out in October.
The 40th anniversary edition of Tattoo You is out on October 22, featuring 9 new unheard tracks - hope you enjoy it! https://t.co/0y203ryaLX pic.twitter.com/NeQth5Ankj

— Mick Jagger (@MickJagger) August 19, 2021